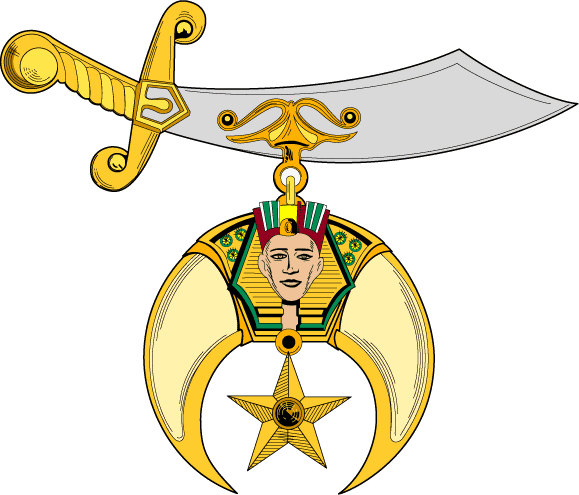 Nobles and Ladies, Summer is almost over and we have been having a wonderful time during this season. The Imperial Session in Houston was exciting and our Temple was so blessed to have received our second Gold Hall of Fame Membership Award. First Lady Trish and I want to thank everyone who attended the Imperial Session; we so appreciate our Temple Representatives for their professionalism during the long business sessions.
We also want to recognize Illustrious Sir Gardner Burton who received the Imperial Potential Award of Merit from Imperial Sir Jeff Sowder for all of his long and dedicated service to Shrinedome.
A special Thanks also goes out to Assistant Rabban Eddie Butler and Lady Holly for running the best of the best Hospitality rooms at Imperial and Central States! You guys ROCK!!
Scimitar has continued on our 3 F's (Fun, Fellowship and Fundraising) throughout this great year. We do have many more awesome events scheduled for which we would love your support. - Our Golf @ the Rock Charity Golf Tournament scheduled for Saturday, November 6, 2021 at 9 am at County Club of Maumelle. Please contact Margie & Darrell Burton to sign up to play and/ or sponsor our biggest fund raiser for our Children.
We have rescheduled the 2021 Potentates Ball to the same day as our Golf Tournament, which we know will bring us even more Fun & Fellowship. Invitations will be going out soon, but please mark your calendars for a full Shrine day on Saturday, November 6, 2021.
First Lady Trish and I are continuing to pray for everyone who has been fighting the hard battle of COVID. A special Thank You, is also extended to all of our Health Care Professionals who work so hard!
Potentate Russel and First Lady Trish
Shriners International is a Fraternity which teaches ethics and morality. We welcome men of every color, creed, religion, sect, and opinion, but each candidate for Shriners International must be willing to profess his belief in a Supreme Being. No atheist can become a Shriner. The essential purpose of Shriners International is the further development of the individual Shriner as an honest, ethical, moral, sincere, caring, and charitable man, learning more about his own potential as a human being and developing his intellectual and spiritual character.